One thing that may not be evident from my web presence is that I'm into cocktails. I had the best Negroni of my life at Gin Palace the other night, and when I needed an idea for a project, naturally that Negroni came to mind. Enter the Negroni Awareness Coalition (the NAC). Quickie screenshot: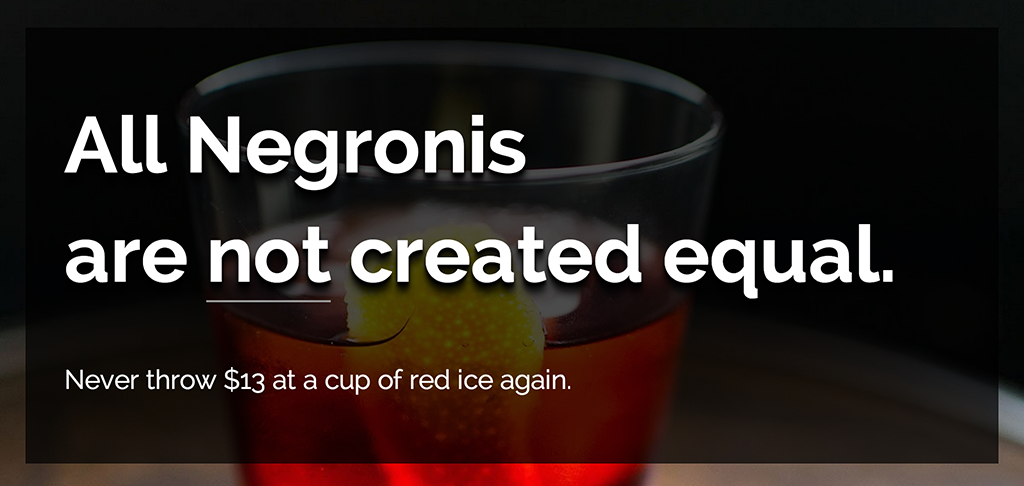 Some back story: I'm a newly minted facilitator for the company Decoded and, as my training, I participated in the Code in a Day workshop (which I'll be facilitating). The premise of the workshop is a 'web app in a day'. It's so nice to have an excuse to just sit down and make something, blank canvas style. Decoded is doing super cool stuff, maybe a future post on that.
At the moment, the above just a snarky site that tells you how far you are from the Gin Palace, but I think it might be fun to continue working on it. Plus I showed it to the lovely bartender there ... maybe it will become a bigger thing! A Negroni tracking system or something.
On side projects
I've had a rocky relationship with side projects. On one hand, of course I should have one (or three)! On the other hand, I spend so much time on the computer already...do I really want to add a bunch of unpaid work to my plate? At least I keep this blog relatively up to date, though I've definitely semi-abandoned some promising side projects in past.
Read More →