Speaking
From WordCamps to local meetups to international (wow!) conferences, I love giving talks and hope to continue to do so in the future.
This section is definitely out of date! I'm sort of/not really working on a more prominent section to show videos from my talks, but in the mean time, check out my masterpiece:
And here's a cool picture of me presenting Algorithms of CSS v1.0.0 at CSSConf EU in 2018!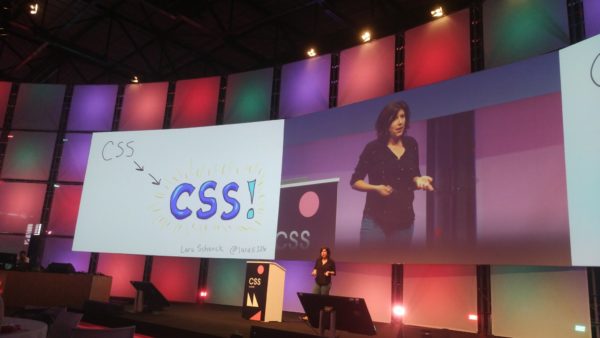 Some way past past conferences I've spoken at:
If you think my experience would be a good fit at your event or meetup I'd love to discuss. Get in touch! I love to speak about CSS as a programming language.
Writing
In addition to my personal blog, I've written for a few other publications about both technical and personal topics.
I find writing to be the most illuminating, and most difficult, of the things I do. Like teaching, you can't write about something without getting to know it inside and out. I love that process and am always striving to publish relatable and useful content.
Here are a few things I've written over the years, and be sure to check out my blog for more.
And here are some podcasts I've appeared on over the years:
FAQ
A few things you may be wondering...
What's your favorite cocktail?

Ah, the ultimate question! It's a daiquiri, hands down. And note that a daiquiri is not a frozen strawberry drink with a tucan on top, rather:

3/4 oz. (fresh) lime juice
3/4 oz. simple syrup
2 oz. white rum

And honorable mention would be a Jungle Bird, a classic tiki cocktail made with blackstrap rum, and any quality Mezcal, neat.

Did you really grow up on a llama farm?

You betcha, though I was way more into horseback riding during my childhood. I think my first experience with HTML and CSS was on a site called Horseland when I was around 10 years old. And looks like it still exists!

Did you have fun in Utah?

Utah? Oh, let me fill you in. I got a little burnt out on business and NYC living at the end of 2016, so I took a ski-bum sabbatical to Alta, UT. I poured a lot of 3.2 beer at Goldminer's Daughter Lodge, and turns out it didn't take long to get my fill of beautiful mountains and fresh air. I cut the season a little short and took off to Los Angeles in March of 2017.